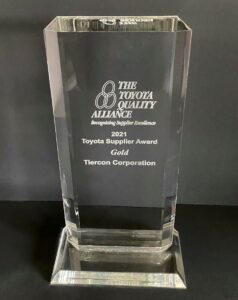 Tiercon is honored to receive its 7th Toyota award for Supplier Excellence, the Gold Award for 2020. On April 27th, 2021, Toyota presented Tiercon with the Gold Award at its first ever virtual Toyota Parts & Accessories supplier conference from its Toyota North American Headquarters in Plano, Texas. This award has many factors that are considered but certainly it is heavily driven by the Toyota Customer Scorecard. Tiercon was among a select few suppliers to receive such an important award.
The Toyota Customer Scorecard is an evaluation of a supplier's:
Quality
Shipments and Delivery
Price
Design and Engineering
Responsiveness
2020 was a very difficult year for the auto industry due to the challenges brought on by Covid-19. Despite these challenges the Tiercon team was able to continue to grow with Toyota in the exterior ornamentation of painted/plastic components, lightweight running boards and functional off-road skid plates, while maintaining its performance standards at a gold award level.